Bio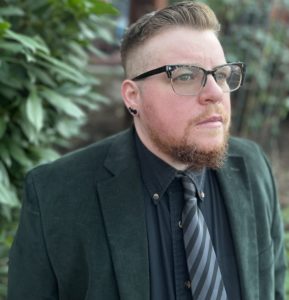 Red Washburn (they/he) is Professor of English and Director of Women's, Gender, and Sexuality Studies at Kingsborough Community College as well as Affiliate Faculty in Women's and Gender Studies at the Graduate Center (CUNY). Red also teaches Women's and Gender Studies at Brooklyn College (CUNY). They are a mentor for the CUNY BA Program in Unique and Interdisciplinary Studies. From Fall 2020-2023, they are Co-Editor of WSQ, published by the Feminist Press, partnered with the Center for the Humanities and Center for the Study of Women and Society at the Graduate Center. They were a Research Fellow at the Committee for Globalization and Social Change as well as the Center for Place, Culture, and Politics at the Graduate Center fall/spring 2018-2020. They were a Visiting Professor at Vassar College summers 2018-2019. They teach first-year composition, women's and trans literature, queer literature, creative nonfiction, introduction to women's and gender studies, feminist and trans theory, queer theory, postcolonial theory, prison studies, women's and trans history, civil rights and post-colonial history, and social movements in the United States and Ireland, post- World War II, among other courses.
They received a M.A. in English from the State University of New York at New Paltz in 2005 and a M.A. in Women, Gender, and Sexuality Studies from the University of Maryland in 2007. They received a Ph.D. in Women, Gender, and Sexuality Studies from the Harriet Tubman Department of Women, Gender, and Sexuality Studies at the University of Maryland in 2010.
Their articles appear in Journal for the Study of Radicalism, Women's Studies: An Interdisciplinary Journal, and Journal of Lesbian Studies. In 2019, they completed a book chapter, "Endangered Studies, Women's, Gender, and Sexuality Studies and Community Colleges in #MeToo Times: A Case Study of Kingsborough Community College as a Microcosm of Neoliberal Education," featured in Theory and Praxis: Women's and Gender Studies at Community Colleges, edited by Heather Rellihan and Genevieve Carminati. In addition, they recently co-wrote an essay with Kimberly Williams Brown called "Trans-forming Bodies and Bodies of Knowledge: A Case Study of Utopia, Intersectionality, Transdisciplinarity, and Collaborative Pedagogy" for Introduction to Women's, Gender & Sexuality Studies: Interdisciplinary and Intersectional Approaches, edited by L. Ayu Sarawati, Barbara L. Shaw, and Heather Rellihan in 2020. In April 2022, they also published "COVID-19: Trans Lives and Trans Studies" in Trans Bodies, Trans Selves: A Resource for the Transgender Community, edited by Laura Erickson-Schroth and Kevin Johnson.
Finishing Line Press published their poetry collections Crestview Tree Woman and Birch Philosopher X. Many of their poems appear in Sinister Wisdom.
Routledge published their academic manuscript Irish Women's Prison Writing: Mother Ireland's Rebels, 1960s-2010s. They are giving many talks in the fall and spring in the United States in Ireland. The first book launch was  for the Center of Global Women's Studies at the University of Galway. Red Washburn was in conversation with Eugene O'Brien, Margaretta D'Arcy, and Nata Duvvury. To watch, please visit here.
They co-edited many issues of Sinister Wisdom, including most recently Trans/Feminisms, forthcoming, Spring 2023.  They are currently working on co-editing the WSQ issue Nonbinary, forthcoming, Fall 2023.
Their future work will focus on nonbinary literatures, visual arts, and performance, Nonbinary: Tr@ns-Forming Gender and Genre in Nonbin@ry Literature, Performance, and Visual Art. They received a Mellon/ American Council of Learned Societies Community College Faculty Fellowship for this book project.
They will be on sabbatical Fall 2022-Spring 2023.